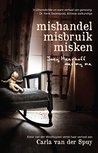 Mishandel, misbruik, misken by Carla van der Spuy
My rating: 2 of 5 stars
I often receive books for review from publishers or authors but this book, I purchased. I was wondering why I have not heard anything about it, not a whisper. Now I know why.
Like other South Africans I have read the story of Joey Haarhoff and Gert van Rooyen in newspapers for many years. They are suspected of abducting and killing six teenage girls in 1988/1989. Gert very cowardly shot Joey before killing himself before police could arrest them. Were it not for these names I would not have purchased a copy of the book.
There is no doubt that Amor van der Westhuyzen had a horrific, abusive childhood and that it would manifest itself in many ways as she became an adult. That said, for me, the book lacked substance. At some point Amor picks up on a behavioural science of placing people into boxes based on behaviour and it appears that she believes this as black and white truth. Later, the reading of what people's characteristics are according to their physical appearance was actually laughable and irritated me immensely.
I am sincerely happy for Amor van der Westhuyzen that she has faced her demons and that she is living a happy life within a successful marriage and has her own business. Sadly, this book will only be purchased because of the fascination the public remains to have with Joey Haarhoff and Gert van Rooyen.
I have just purchased another book written by Carla van der Spuy, so my disappointment in the book is not with the author. I think she did the best she could with the content she had to work with.
I wish you enough,
Wenchy